---
About Storm Sector
We offer unique imagination, talent, and technical expertise that can get you maximum results. Storm Sector, LLC specializes in digital media, content management, online marketing, ICT consulting, newsgathering, and full-stack web development services. Our firm serves enterprise, small business, government, military, non-profit, and personal (non-business) clients. We're quickly growing and now working on special projects for 2019-2020.
---
Company Background
Are you ready for ideas and results? We're quickly growing, constantly working to exceed industry standards, and boast some of the most unique imagination and talent available today. In late 2017, we launched the commercial Storm Sector website to begin offering digital services and selecting special project clients. Our company is a result of realizing there's a significant market for customers with unique technical needs, especially when dealing with complex technologies involving hardware, software, servers, networks, and social media. We welcome clients of all sizes.
Our Founder
Meet one of the most unique science and tech experts in the world. Ben Alonzo is the Chief Executive Officer of Storm Sector, LLC. He wants to connect with small and medium businesses to offer budget expertise for their unique needs. He's also looking for partners to invest in unique future tech ideas.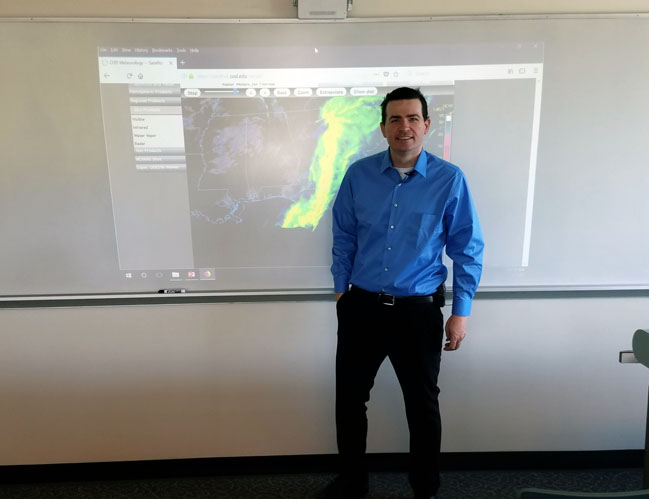 StormSector.com was originally founded by Ben Alonzo, a science and tech expert. He's a scientist, professor, and author with a passion for everything science and technology. His background includes over ten years of experience with some of the largest names in tech, including IBM, Intuit, and CBS. His expertise includes computer programming, server and network engineering, wireless communications, higher education, science, healthcare, video production, photography, desktop systems, information security, and web development.
Alonzo loves technical challenges and is a hired subject matter expert for several major corporations. He has a BS and MS in geoscience and a MS in health. He also just finished a MS in IT. Want to read more about his expertise - check out his website ULTRA TechLife. You might have also read some of his articles online about a range of today's science and tech trends on many news sites.
Our Name
Where does your company name come from? Our company and name are unique. A storm is a disturbance in the atmosphere often marked by captivating displays of nature. Sector means a part that is distinct from the others. Put the two together and you have Storm Sector. We thought this was a great name because it applies to nearly any popular industry today. The pace of science and technology is also often described as rapid, chaotic, and spectacular, similar to a major atmospheric storm. When you see our name, we want you to think of exciting and unique new opportunities.
Services Offered
What services do you provide? We provide expert digital media production (video production, photography, graphic design, content management, and newsgathering), information and communications technology (ICT) consulting (PC hardware-software, network and server systems, information security, and sci-tech projects), and full-stack web design and development services. This is the perfect combination of expertise because most clients require a mixture of system support, graphic design, content creation, and web development resources.
Industry Standard Expertise
Our staff members are trained to meet and exceed industry standards, including hardware and software efficiency, information security, digital format specifications, and lean project management. In addition, our staff are highly educated, industry certified, and offer years of hands-on experience. The best work comes from people that enjoy their job - they love what they do. What challenge do you have for us?
The best experience comes from diverse industry experience. Our clients run the gamut of industries. We've worked with governments, schools, private (individuals), restaurants, small businesses, Fortune 100 companies, and international clients. Each project has its own challenges, which we value and learn from. We also continue to expand our expertise, as technology advances and the market develops newer needs.
Clients Love Storm Sector
Our goal is long-term happy clients, not just numbers. We also want to offer the best prices to beat any competition. We've worked with hundreds of clients and have a majority retention rate because of client satisfaction. By choosing us, you'll also get rid of a lot of the middleman trouble you might experience with other companies. Nearly all of our clients continue their relationship with us because of our fast service, diverse expertise, helpfulness, and affordability. Consider becoming one of our new clients!
Maximize Investment & Affordable Choice
Our mission is to maximize your investment. Successful businesses require efficient technology resources. We work with clients to make sure they get quality science and technology services with efficiency, redundancy, compatibility, security, and longevity in mind. Our media services also ensure you get more attention, a better user experience, faster load times for websites, cross-capability for browsers, great graphics, and search engine-friendly coding. We understand the front and back-end of design and development. Diverse expertise also means you get more options and affordable rates.
Feel free to contact us with your questions or project requests. We look forward to working with you.